This is the deluxe Adam Townsend biography with the bonus features. If you would like to know where I have worked and who I have met please visit my LinkedIn.
My sister is April. Wife is Nancy Konipol. Both call me Ads. My son's name is Shaun.
I grew up in the lower east side of Manhattan. Almost every night we ate dinner at Leshkos on 7th and Avenue A. The restaurant is gone now. I have reached an age that I can say, like an earlier generation might have said about the Fillmore East or some other temporal artifact, 'the young folk have no idea what is gone'. It wasn't just a restaurant, it was an observatory. It was a safe place to watch the East Village in the late 60's and 70's.
I went to St Ann's, then PS41, then Friends Seminary.
I decided to have a career in sales at a young age. Generations of my family had advanced degrees, were overworked, barely middle class, had multiple marriages and didn't seem entirely satisfied or happy. Desiring a different outcome, I chose the path they traveled less.
I went to work on Wall Street. I was right person, right time, right place. The markets were wildly expanding, intellectual capital laborers were needed to reap and sow. High levels of testosterone, physical and emotional endurance and competitiveness; those traits that exhausted my family and friends, were prized here. I was home.
My clients and I acquired large positions in Micron and other semiconductor companies. This was the time frame that Windows 92 was just coming out and chips were a scarce and speculative commodity.
From Gruntal to Prudential to starting my own shop, then to selling it within 10 years.
I was lucky, did well and when I had an opportunity to cash the big chips, I took it.
Wall Street taught me to have a complete system and environmental view. How to appreciate and manage complexity, volatility and imperfect information. And, that a smart guy who works hard beats a smart guy who doesn't.
Around 1996, Nancy and I took off to travel the world for a few months. Turkey, Budapest and Prague.
The beginnings of Silicon Alley were forming and I was invested thru several young VC funds that my Wall Street friends had started.
Pseudo Programs was one such company. Its rival was broadcast.com run by Mark Cuban.
Josh Harris (Founder of Pseudo) was smarter. Mark was wiser.
Pseudo taught me that the best entrepreneurs have a flexible vision that synthesizes risk tolerance, reality, data and are amazingly opportunistic. Shark Tank (one of my favorite TV shows) would have a different panel member had Josh Harris not had such artistic aspirations and had he understood the responsibility he had to his employees and shareholders)
For a brief stint I joined Pseudo as its Director of Sales. I saw that it neglected building real, rigid, processes around its people and financial management. This was consistent with how fast and recklessly companies were growing.
A company I had invested in several years before was Administaff (now called Insperity) An outsourced Human Resources company, a PEO.
As an early investor I was given a right should I want to open up a franchise in a market away from the headquarters in Houston, Texas. I choose to exercise. However, the company decided (wisely) to change the model and buy back its franchise rights. Instead, in 1998 I became an early employee in its expansion markets. I was sales, but also an evangelist. Our clients then were the textbook definition of early adopters and chasm jumpers. Mostly innovative technology and financial service companies.
Administaff had just recently gone public and, always the deal maker, I thought a company I had made an investment in would complement it. As Administaff was outsourced Human Resources, this company, Virtual Growth, was outsourced accounting. In mid 2000 Administaff led a round of financing with Citigroup Ventures/George Arnold, Starvest/Jeanne Sullivan and Bessemer/Rob Stavis.
It is life changing to work closely with a real visionary, Paul Sarvadi, the founding CEO of Administaff. To be permitted to be useful to a broad range of departments, to be included in board meeting preparation and strategic planning. Once again I was right person, right place, right time.
Here's an interesting stock chart of Administaff (remaned Insperity in 2011). It was, as you can see by the wild stock movement, an interesting time. I was fortunate to be there. When i joined the stock was trading around $20 (it had done a stock split not shown in the graph), from there it went to $2 a share. Within two years it had traded up to $60. This is a NYSE listed stock, it was (almost) unprecedented.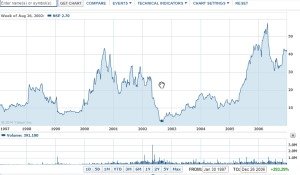 Lessons I learned:
Take all opponents seriously, don't be arrogant. ADP, Administaff largest competitor at that time, had announced during their earnings call that they were going to "eat our lunch". They did. ADP had made a tactical mistake announcing their intentions. We made an almost unrecoverable blunder not responding to this threat.
Operational excellence sustains innovation.
Manage geographical and industry risk. Economies have cycles and they can be devastating.
Headline risk is not just a textbook answer It is real. Clients react very badly to adverse headlines.
The best clients leave first.
Visionaries are courageous enough to listen to productive criticism and determined enough to know when not too.
Companies led by visionaries are not democracies. They are benevolent dictatorships. Accept that or don't be there.
Going into 2006 I knew it was time to leave. The stock had done well and I was restless. At the end of 2006 I left to join Newtek as its VP of sales and marketing, and as a shareholder.
Newtek was publicly traded and I had known, and admired, its CEO for many years.
The strategic reason I joined is that I wanted to gain an insight into an alternate product distribution model, channel partners.
I left after exactly one year.  I was right person, right place, wrong time. I still remain very close with the CEO; he is a friend and a great guy. When I have questions he is on my very short list to help me find an answer.
In 2008, almost a year to the day after leaving Newtek, I went to Gevity anticipating the acquisition by TriNet and funded by General Atlantic Partners.
And then….
I had a great 4 year career at TriNet. I left to invest in the newest generations of HR Tech and Professional Services Companies. Lots of great companies in the space, my favorite (right now) is Slack and Workday, both of whihc i was there from their first real estate lease on.
I am an LP of several Venture Capital and Private Equity firms and I am a very active part of a syndicate of family offices.
I am also way deep into being in a great shape. I wrote about it here: Pivoting. The startup of me
The lightning round….
What am I proudest of?
My cognitive intelligence. Something in my brain allows me to connect dots really well.
Being aware of my shortcomings and compensating for them and my strenghths and optimizing them.
Always trying to grow as a person.
What where my biggest challenges and how did I overcome them?
Transtioning from the winner take all world of my Wall Street career to collaborating in a corporate environment. It might sound trivial but it's a quantum difference.
Hobbies
Favorite movies
Velvet Goldmine
Ghost Dog
Dead Man
Matrix
Groundhog Day
Favorite music
Big list. Lately because I have been doing so many tedious endurance runs and bike races I have been listening to a lot of Rap music that…
#KeepsMeMoving